Hello fellow Tavern Dwellers! It's time for another Hearthstone post! The newest expansion, Descent of Dragons is coming out in a few days, and all of the cards have been revealed. The following is my opinion on some of the best looking cards in the set. Now, let's have ourselves a friendly brawl!
Embiggen Type: Druid Epic Spell Appearance: A druid growing to massive size. Mana Cost: 0 Effect: Give all minions in your deck +2/+2. They cost (1) more (up to 10).
This is one of the most powerful stat boosting spells in the game. Giving all of your minions +2 worth of health and damage could change the game in your favor. Keep in mind though, the increased mana cost could lead to a difficult end game.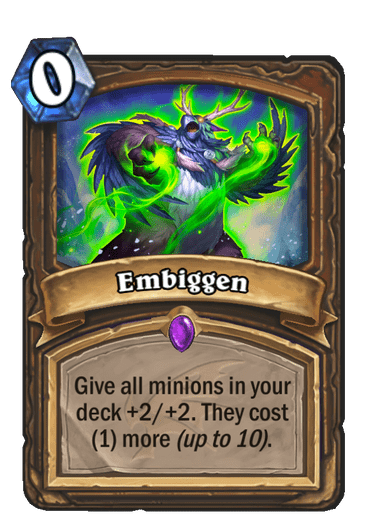 Valdris Felgorge 

Type: Warlock Legendary Minion Mana Cost: 7 Appearance: A demon with long hair and Fel energy.  Attack: 4 Health: 4 Effect: 

Battlecry: Increase your maximum hand size to 12. Draw 4 Cards.
This card has one of the most incredibly unique effects I've ever seen printed. No other card has increased a player's hand size, and the fact that it's a Warlock-type card makes it even better. I can only imagine the crazy strategies that will appear from this card, and I can't wait to try it out for myself.