Hello fellow Tavern Dwellers! It's time for an incredibly fun post! The newest Hearthstone expansion is going to be released tomorrow, and we are going to get 135 new cards to play around with. As per usual with these posts, I am going to be sharing some of my favorite new cards in the expansion. Keep in mind though, my opinions will probably change as I play around with them, so expect an update in about a month. Now, let's take a trip to the Faire!
Deck of Lunacy Type: Mage Legendary Spell Mana Cost: 2 Appearance: A deck of cards with a maniacal face on them. Effect: Transform spells in your deck into ones that cost (3) more. (They keep their original Cost)
Here we have the card that I'm most excited for in the new expansion. The effect is absolutely insane, and can definitely change the state of the game in seconds. Transforming all of your spells into even more powerful ones is always a good thing, and the retained cost is what puts it over the edge. Your opponent will be shocked when they get hit by a 1-cost Fireball, and the ever-changing meta will have an absolute field day finding the best places to put this insane card.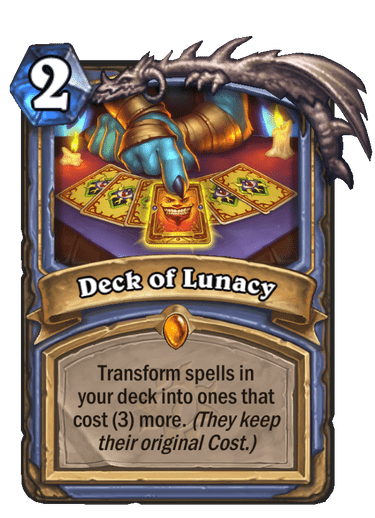 Darkmoon Tonk Type: Hunter Rare Minion Tribe: Mech Appearance: A green and gold tank with a stern face and multiple cannons. Mana Cost: 7 Attack: 8 Health: 5 Effect: Deathrattle: Fire 4 missiles at random enemies that deal 2 damage each.
I've always been of fan of random effects, and this one fits that liking to a T! It not only has an impressive attack, but the Deathrattle can cause tons of shenanigans on your opponent's board. Also, it deals 8 damage to your opponent's face if their board is completely empty.
Blood of G'huun Type: Priest Epic Minion Tribe: Elemental Appearance: A very cool bloody elemental with sharp teeth. Mana Cost: 9 Attack: 8 Health: 8 Effect: Taunt. At the end of your turn, summon a 5/5 copy of a minion in your deck.
This is a very good card that gives you quite a lot of protection. Not only is it a powerful defender and damage dealer, but the extra 5/5 summon at the end of your turn can become real good real fast. If you have some high level Legendaries, this turns into a major force to be reckoned with.