NSFW CONTENT AHEAD!
Hello fellow Pokemon Trainers! It's time for another Pokedex Post! I hope you guys are ready for some crazy entries. Now, let's begin!
Peperee (The RAAAAAGE Pokemon) #254 Rock/Grass Type Appearance: An incredibly pissed off frog creature. Possible Abilities: Overgrow (The power of Grass moves increases by 50% when HP is 1/3 of its Maximum), Anger Point (Boosts the Attack Stat to Max when hit with a critical hit), or Soundproof (Protects against Sound-Based moves) Ht: 5'07" Wt: 212.3 lbs Gender Ratio 87.5 % Male to 12.5% Female Evolves from Smugrok at level 38 and is the final form of Sadrog Base Stats: HP: 100, Attack: 90, Defense: 120, Sp. Atk: 55, Sp. Def: 95, Speed: 65 Base Stat Total: 525 (Pretty balanced stats with very high Defense). Weak to Fighting, Bug, Steel, and Ice.
Entry: A reclusive species. Peperee are known for their childish and primitive behavior when they don't get what they want.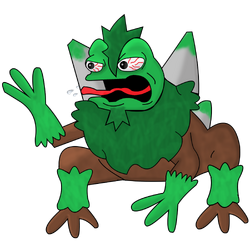 Cansumor (The Cancer Pokemon) #323 Poison type Possible Abilities: Liquid Ooze (The opponent's HP-Draining moves damage them instead), Corrosion (Steel and Poison Types can be inflicted with poison), or Shed Skin (At the end of every turn, you have a 33% chance of curing your status condition) Doesn't evolve into any other Pokemon Ht: 3'03" Wt: 60.0 lbs Gender Ratio: 50/50 Appearance: A literal embodiment of cancer. Base Stats: HP: 135, Attack: 80, Defense: 90, Sp. Atk: 65, Sp. Def: 90, Speed: 35 Base Stat Total: 495 (Very good HP stat). Weak to Psychic and Ground.
Entry: Cansumor are able to see in all directions with their multiple eyes. Simply touching it can give you all the cancers.